We will Build and Operate Your System
Our Ad Management service allows you to outsource a great volume of your advertising workload, including coordinating with advertisers, agencies, DSPs, SSPs, ad networks, ad tech companies, and media companies providing advertising platforms.
Providers
Media Companies, Media Representatives, Advertising Agencies, Affiliate Companies, DSP/SSP Companies, Other Ad Technology Businesses, etc.
What We'll Achieve
Our professional staff and efficient operations management system will ensure that you receive a cost-effective and flawless professional service.
Scope of E-Guardians Ad Management Work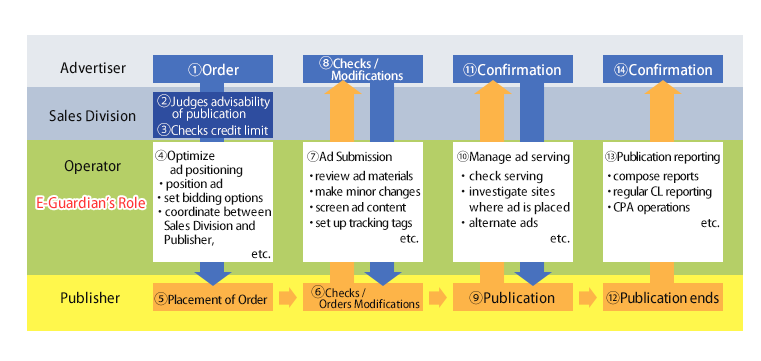 Calculating Your Quote: Step by Step
Backed up by our extensive experience in ad management, we aim to become your ideal business partner.
Aiming for ad management that will boost your satisfaction ratings
Rapid responses
Accurate answers
Creating a system that is resistant to mistakes and delays
Aiming to reduce your man hours (management costs, operational costs)
Expansion and handing over of operations
Reduction in man hours
Proposals for improving your system and standards
Service Overview
Step 1: Calculate the expected number of man hours
We start with the existing number of man hours, and then factor in how many will be saved through greater efficiency.
We make calculations based on consultation and sample materials.
Step 2: Select a service policy
In-House Service
Prioritizes security and ease of communication.
Center-Based Service
Prioritizes workload control, 24/7 support, etc.
Step 3: Write your quote (approximate example)
In-House Service
400 to 600 thousand yen per person per month*Can dispatch personnel or outsource the role
Center-Based Service
300 to 500 thousand yen per person per month
Service Policy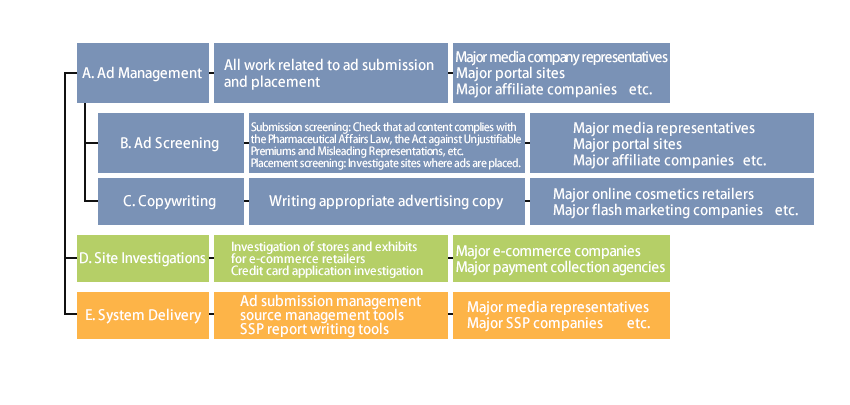 We belong to the Salesforce.com Consulting Partner Program
We can now offer a fusion of the latest cloud computing technology and custom application, enabling us to resolve our customers' problems with greater speed and versatility, and to build a system that allows us to provide an even more efficient service to all our business customers.
Our exclusive partnership with AD-Flow — a company boasting top ranking in Japan for ad creation and positioning — allows us to handle a huge volume of advertising operations, gives us access to more expertise on ad submission, and lets us work on technological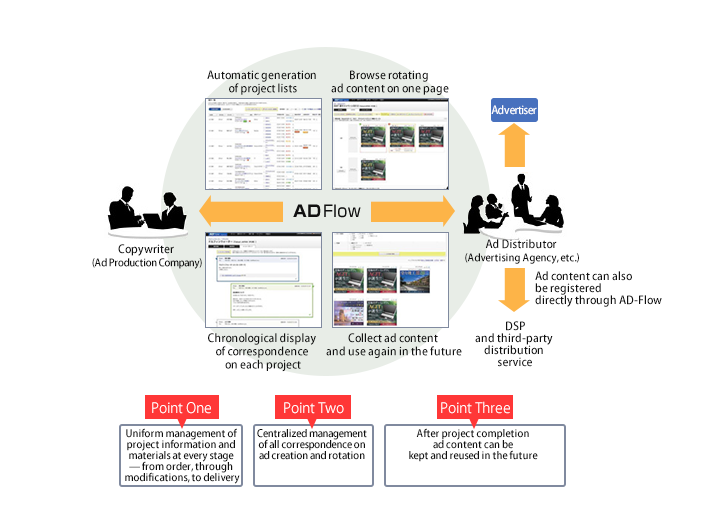 Examples of companies that use the ADFlow Advertising Management System(banner ads, mail magazines, etc.)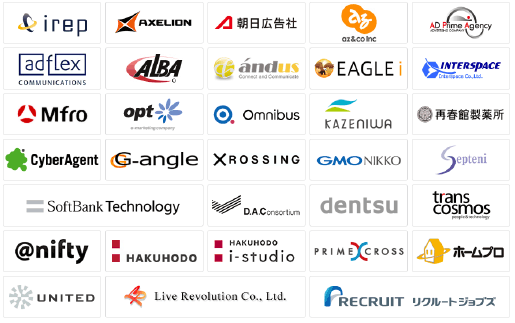 Contact Us
Advantages of E-Guardian
Business with over 300+ websites, Leading Company in the Industry!

Customizable Operation and Management Meet the Feature of Website!

Free Trial Available to Experience the High Quality Service.

"Thorough Quality Control" = Low Cost, Speedy Operation in Tokyo and Osaka Center