The E-Guardian image filtering system (ROKA SOLUTON)enables the automatic sorting and analysis of the ever-growing volume of images in the online world.
In addition to screening online media like blogs featuring pictures and videos, sites with user-generated content, and e-commerce sites, this filtering system can also be applied to all kinds of content under any number of conditions. By radically reducing the number of posts that need to be checked in-person, our filtering system allows your company to reduce its monitoring costs by as much as 95% (data based on our own research).
What Our Clients Want
"I want to incorporate contextual advertising, but some of the content posted on our user-generated blogs and forums can be inappropriate. I only want ads to appear next to the right kind of content."
"I want the images checked in real time — the moment the user posts them. That way I can maximize the effectiveness of the ad by not missing out on a single page view."


Our Service
Using our ROKA SOLUTION you can improve efficiency and have images screened in real time.
The core engine of our image filtering system(ROKA SOLUTION)is trained using "teaching data": large volumes of pictures and videos that have been categorized in advance through in-person inspection. The system is then made to run actual analyses of target pictures and videos, and is marked according to how accurately it categorized them. If it makes mistakes, the training process will be repeated to improve the system's ability to distinguish permissible and impermissible content.
 ※"Teaching Data": Also known as "training data". The initial learning data that is inputted when the structure of automatic learning is being established.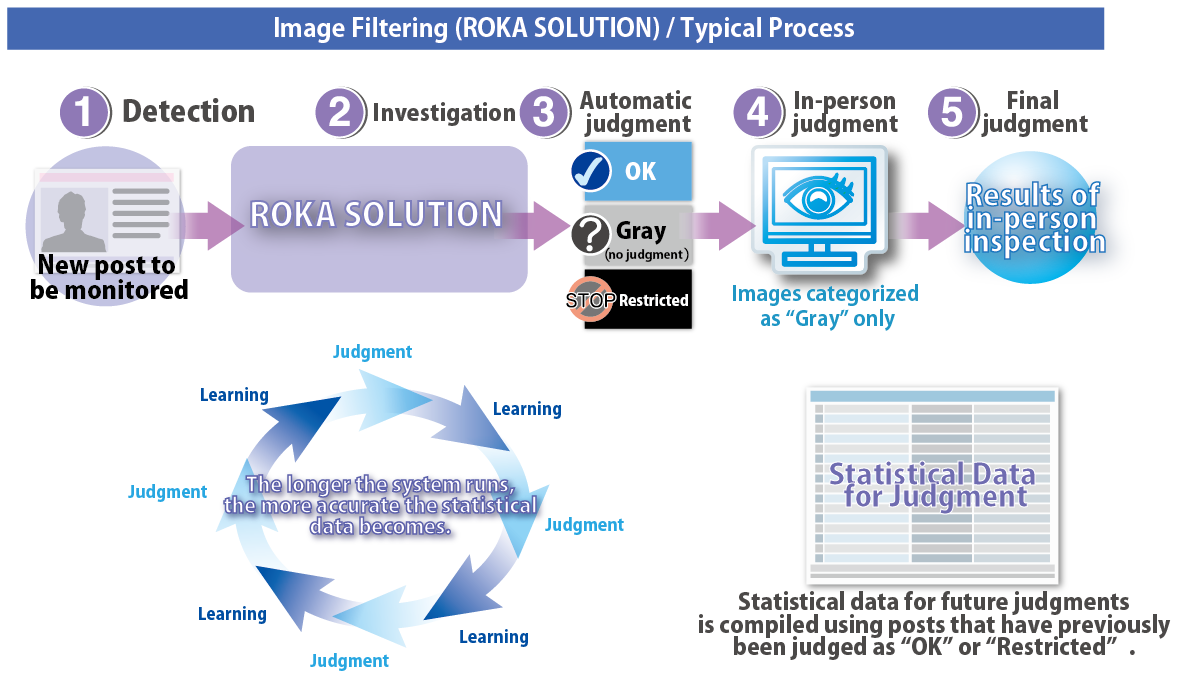 Types of ROKA SOLUTION
1:ROKA SOLUTION Engine for Screening Contextual Advertising
Detects adult and graphic images on sites with user-generated content, and automatically filters out content that is judged inappropriate for the placement of contextual advertising.
You can also customize which categories of images you want to target — get in touch with us to find out more.




The ad is only served after the content has been checked in-person, several hours after it was posted, so you miss out on the period of highest traffic.



Monitoring can be done in real time as soon as the article is posted, so the ad can be served while traffic is at its peak.


Features
1:Accuracy and Processing Speed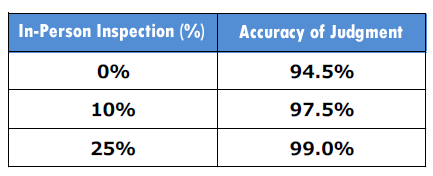 (Data collected May 23, 2014)


When a test was run using a sample set of images that had been judged inappropriate (including pornographic images), the system correctly flagged 94.5% of the images as "Restricted" without the assistance of any in-person inspection.
To boost accuracy further still, in-person inspection was then done on 25% of the sample — particularly on content that the automatic system had flagged as "Gray" — and the percentage of images correctly flagged as "restricted" rose to 99%. In this case, monitoring costs could be reduced by as much as 95% compared to fully in-person inspections (theoretical value reached at the time of this trial). The standard plan features a processing speed of approximately one image per half second: that's approximately 7,200 images per hour. You can also opt to upgrade to achieve an even higher processing speed — get in touch with us to find out more.


Introducing the ROKA System: Step by Step
Step 1: Assess Current Issues
We compile a list of active issues
Lack of real-time monitoring
Need to reduce the cost of image monitoring
Need to filter out potentially problematic images from the company website
Step 2: Operation Design, Implementation, and Assessment
We design and implement protocols to address these issues


Step 3: Reporting
Results and proposed improvements
Accuracy analysis
Speed analysis
Propose ways of optimizing operational procedures and standards
Propose ways to further boost site activity and raise quality of content



Pricing
Approximately 0.1 to 0.2 yen per image. Please contact us for further details.



About the Harida Research Lab at Tokyo University
This lab conducts research into learning image annotation systems (artificial intelligence) that can automatically identify what image data shows.


You can visit the Harida Research Lab's website here(external link).



Contact Us
Advantages of E-Guardian
Business with over 300+ websites, Leading Company in the Industry!

Customizable Operation and Management Meet the Feature of Website!

Free Trial Available to Experience the High Quality Service.

"Thorough Quality Control" = Low Cost, Speedy Operation in Tokyo and Osaka Center