Features
With E-Guardian Net Patrol, you can rest assured that our professional operators will have their watchful eyes on your company's blog, social network or forum, 24/7.
With its proud record of monitoring approximately 30 million posts made to mainly large-scale sites every month, E-Guardian will protect your company's community site 24/7 under the watchful eyes of our professional operators. We also provide detailed reporting on all our work to help build the value of your site in the long-term.
We can also develop a monitoring system tailored to your company.
Allow us to pitch you a monitoring plan that fits your budget.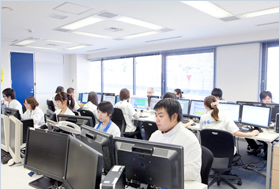 Types of Net Patrol
Screening for malicious, perhaps slanderous, comments, so that site users can have an enjoyable social networking experience.

Real-time post monitoring to avoid blogs from being inundated with unwanted comments (flaming).
Our Service
1: Monitoring of comments and trackbacks on blog content
We perform round-the-clock in-person monitoring of blog article posts, as well as comments and trackbacks associated with them. When a post breaches the service's publication criteria, we can respond by contacting the site administrator, informing the user of the breach, or by taking the post down. We are always ready to take immediate action against flaming and trolling.
2:Monitoring of social networks, profiles, diaries and communities
We perform round-the-clock in-person monitoring of profiles posted on social networks, diaries, and posts to community forums. When a post breaches the service's publication criteria, we can respond by contacting the site administrator, or by taking the post down.
3:Monitoring of customer reviews, feedback and comments posted to e-commerce sites
We perform round-the-clock in-person monitoring of the large volume of reviews, feedback and comments on products and services that are posted to e-commerce sites. Where needed, we are also able to provide contextualized analysis (i.e. preserving comments that are simply negative, while filtering out content that is slanderous or critical of the company).
4:Monitoring of pictures, videos, and voice recordings
We filter out and remove pictures of individuals posted without their consent, child pornography, pornographic images and videos, and content, such as TV-related content, that infringes on copyright and portrait rights. Video posts can be screened by extracting and checking thumbnails, or can be viewed in full.
5:Investigation into Copyright Infringement
We monitor sites on behalf of copyright holders to ensure that their copyrighted material is not being used by others for fraudulent or commercial purposes. We inform the copyright holder of any copyright infringements that we uncover, and request that the website administrator remove the post in question.
6:Monitoring unofficial school sites
Our professional operators personally track down and monitor unofficial school websites, which have become hotbeds of bullying and online abuse. We immediately report any illegal or otherwise impermissible content that we find to the site operator.
7:Monitoring of status updates and live chats
We perform real-time (as fast as within one minute) monitoring of posts like status updates and live chats. By introducing our dedicated monitoring system, you can expect to filter up to 5,000 posts per hour.
What Our Clients Want
Our high quality Net Patrol service combines efficient screening by our EG Analysis System with attentive in-person monitoring by professional operators.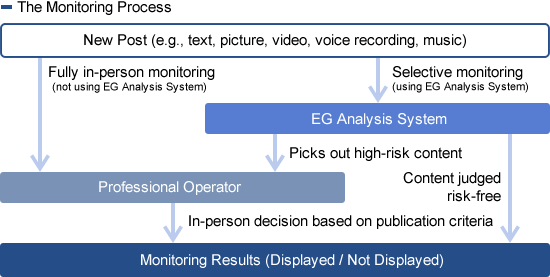 Step 1: Assess Current Issues
We compile a list of active issues
Need for real-time monitoring
Need for contextualized monitoring
Links need to be checked and evaluated
Cost reduction
Monitoring to prevent flaming
Step 2: Operation Design, Implementation and Assessment
We design and implement protocols to address these issues
We draft publication criteria, set up operations, and establish escalation protocols.
Step 3: Reporting
Results and proposed improvements
Risk analysis
Post trends
Propose ways of optimizing operational procedures and standards
Propose ways to further boost site activity and raise quality of content
1:EG Analysis System
We are constantly updating our database of restricted words, allowing us to provide you with first-class monitoring. The system is also highly customizable, and so can be tailored to fit your company's policies and budget.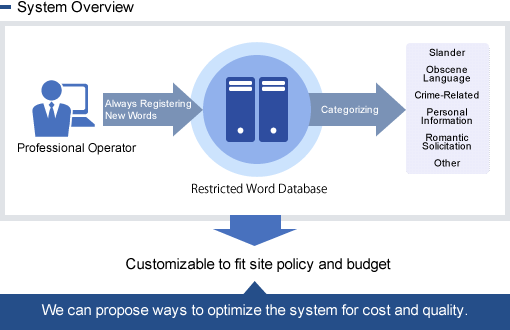 Our Cutting-Edge Database Keeps Up With all the Major Trends
Backed up by the expertise we have accumulated through monitoring around 300 sites — one million posts a day, 30 million a month — we identify and update our database with new restricted terminology on a daily basis. Examples include encrypted terms for drug trafficking, or new words related to the solicitation or promotion of prostitution.
Customization of Restricted Word List to Fit Site Policy
Clients can review our database and deselect categories of restricted terms — such as slander, obscene language, or crime-related terms. You might, for example, want to clamp down on prostitution and crime-related terminology, but go easier on slanderous content in order to encourage debate.
Budget Tailoring
Clients can set the rate at which restricted words get picked up in order to control how many posts get flagged. You might, for example, want to keep your monitoring costs under 500,000 yen a month.
2:Professional Operators
Our managers — experts in web-monitoring — and our trained operators communicate seamlessly with your company's representative, a process that is essential to quality management.
All Our Centers
Train highly computer-literate operators
Enable completely confidential communication between us and our contact at your company
* This is a key feature of our service: In order to control quality, it is essential that communication be maintained between the E-Guardian administrator assigned to your company and your company's contact person.
Thorough Performance Management
We offer career development options in keeping with our role as specialists in site web monitoring.
Our quality-control managers oversee the individual performance results of every operator.
【List of Professional Development Trainings】
Understanding site concepts
Judgment testing
Creating a workflow
On the job training
Drafting publication criteria
Full-scale introduction
Operator training
Only those who have passed our test are eligible to work
Introducing E-Guardian Net Patrol: Step by Step
Contact Us
Advantages of E-Guardian
Business with over 300+ websites, Leading Company in the Industry!

Customizable Operation and Management Meet the Feature of Website!

Free Trial Available to Experience the High Quality Service.

"Thorough Quality Control" = Low Cost, Speedy Operation in Tokyo and Osaka Center