E-Guardian's customer support for smartphone apps and online games helps you establish a secure and comfortable environment for your users to enjoy native smartphone apps, large-scale MMOs, PC browser games, and smartphone apps like GREE and Mobage. We will take care of your customer support duties, and, through initiatives like promotions to boost user activity, contribute to reducing your costs while raising user satisfaction ratings.
With our extensive experience supporting users of over 300 apps and games, you can depend on us to take care of your customer support needs.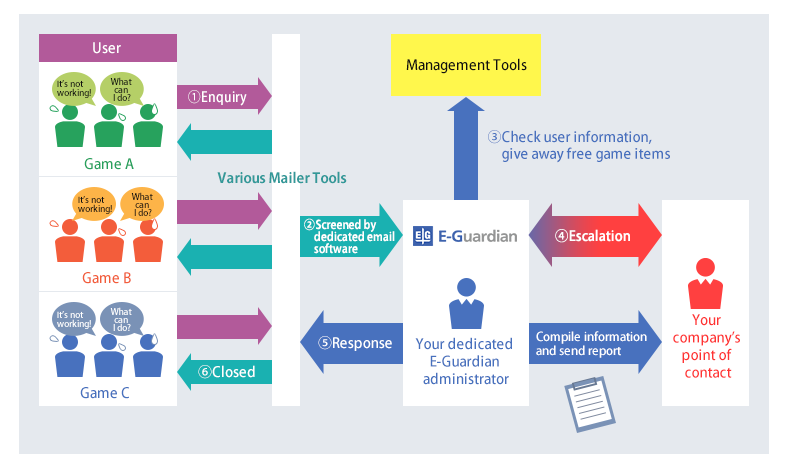 Service Planning
Backed up by our track record working with 700 games and apps for 70 different companies, we'll plan, pitch, and run your support service. *Includes extensive experience with RightNow and Technomark Mail.
Service Hours
Service is available from 9.00 to 18.00, including weekends and holidays (8-hour working days). 24-hour service is also available.
*Please contact us to find out more about service hours.
Service Parameters
You can also choose us to be your primary customer support provider on weekends and holidays only. We can even offer game items as compensation.
*We can give out game items and make announcements as required. Please contact us to find out more.
*If you wish, we can provide additional services outside of business hours, like performing login checks, giving away game items, and making announcements. Please contact us to find out more.
Service Policy
We aim to be your ideal customer support partner, one that values a user-oriented approach.
Aiming for customer support that raises user satisfaction
Rapid responses
Accurate answers
Support in developing games that attract fewer enquiries
Aiming to reduce your man hours (management costs, operation costs)
Expansion and handing over of your customer support services
Reduction in man hours
Proposals to reduce the volume of enquiries
Merits of E-Guardian's Game and App Customer Support Service
We aim to provide a more efficient service while still raising quality
More Enquiries Answered, Fewer Escalated
By making sure that answers to escalated enquiries get turned into template answers and added to the knowledge base on the spot, we prevent the same enquiry from getting escalated more than once.
We Assign Experienced Game Support Staff
We assign a member of staff who has the knowledge and experience to compose draft responses for the sorts of enquiries typical to the gaming world.
Impressive Track Record
We've run customer support for over 700 games (mainly large-scale) from 70 different companies. We can provide a versatile service, including mail and phone support, alive monitoring and site monitoring.
Contact Us
Advantages of E-Guardian
Business with over 300+ websites, Leading Company in the Industry!

Customizable Operation and Management Meet the Feature of Website!

Free Trial Available to Experience the High Quality Service.

"Thorough Quality Control" = Low Cost, Speedy Operation in Tokyo and Osaka Center