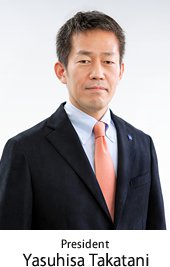 The Guardian Angel of the Internet Industry
Since our establishment in 1998, E-Guardian has engaged in business with the aims of being a company that utilizes the Internet more safely and securely than any other organization.

Continuing after being listed on the TSE Mothers Index in 2010, we have remained consistent in our endeavors to expand our business and increase profits with the goal of becoming the NO.1 service provider across all of the fields in which we are engaged.
Market surveys reveal that our business sector of Internet-related markets continues to grow against the backdrop of widespread usage of smartphones and tablet devices, and that it is expected to expand into a wider variety of services in the future.

Amid heightened concerns over cyber security, especially in light of the recent frequency of unfortunate incidents related to the disclosure of personal information, a great importance has been placed on security and credit guarantees in the markets that produce advanced technology, such as the IoT (Internet of Things) and blockchain technologies currently trending in the FinTech sector.
In such an environment and with regard to the business of social support, which includes E-Guardian's initial enterprise of monitoring Internet posts, we have become an industry leader with a form of monitoring which utilizes AI (Artificial Intelligence) in visual observation, and our combination of the correspondence skills possessed by humans and the level of efficiency afforded by AI has resulted in a service that only we can provide.
Additionally, with the aims of becoming a "comprehensive net security company", we have also boldly expanded our business in terms of operations in the gaming and Internet advertising industries and, through the provision of services that combine resident, dispatch, domestic, and overseas centers, we have successfully endeavored to achieve high levels of both quality and efficiency.
Furthermore, M&A and business partnerships have been enacted in order to increase share prices in an Internet industry which continues to experience remarkable growth, and by welcoming 6 companies with specialized knowledge into the E-Guardian Group, we have achieved an even greater synergy effect.
・BPO for Startups: E-Guardian Tohoku Inc.
・Temporary Staffing for the IT Industry:EG Human Solutions Inc.
・Apps/Web Debugging: Trunel Inc.
・Cyber Security:EG Secure Solutions Inc.
・Customer Compliance Investigations: Real Reputation Research
・IoT / Software Debugging:ITS Inc
*Current as of March 2017
With your support, E-Guardian transferred from the TSE Mothers Index to the First Section of the Tokyo Stock Exchange on September 16, 2016. This was achievable based solely on the support we received from all of you, and we would like to thank each and every one of you for all you have done on our behalf.
Striving to meet your expectations, we will continue towards the realization of our ideology of "We Guard All" as a comprehensive net security company, and we will devote all of our strength and resources to the development of a variety of services that will allow for the safe and secure use of the Internet. As such, we wholeheartedly thank you once again for your continued support of E-Guardian.
Takatani Yasuhisa
President, E-Guardian Inc.
Business Career
| | |
| --- | --- |
| 1993 | Awarded degree by the undergraduate schools of law and politics, Kwansei Gakuin University |
| 1993 | Joined Johnson & Johnson K.K. |
| 1995 | Joined KYOCERA Corporation, working in Information System Division focused mainly on system integration. He also worked in business planning of data center and launch of official mobile website co-founded by KDDI CORPORATION. |
| 2005 | Joined E-Guardian Inc. |
| 2006 | President (to present) |
Contact Us
Advantages of E-Guardian
Business with over 300+ websites, Leading Company in the Industry!

Customizable Operation and Management Meet the Feature of Website!

Free Trial Available to Experience the High Quality Service.

"Thorough Quality Control" = Low Cost, Speedy Operation in Tokyo and Osaka Center