E-Guardian provided localization and culturalization services for the online entertainment company: HK Hero Entertainment, headquartered in Hong Kong. With the Japanese release of their online 3D Action RPG "PUNISHING : Gray Raven" (referred to as PGR) that has over 20,000,000 downloads as of winter 2020. Ms. Hau from the management team and Ms. Hasegawa from the localization team have shared their thoughts below on the project.
Background Leading up to the Partnership
High quality translation and enthusiasm for diving into the game won us over.
Ms. Hasegawa

When dealing with online game development in multiple languages, localization is an important step in adapting the translation to the culture of the country. Particularly when going from Chinese to Japanese our concern with publishing was matching the quality to our timeline. The amount of words that can be translated in a certain amount of time changes with each company, and as the volume of our order changes it can be difficult to adjust the schedule appropriately. At the same time, if we focus too much on the schedule this can lead to inconsistencies and translation errors, which increases the time we need for in-house proofreading.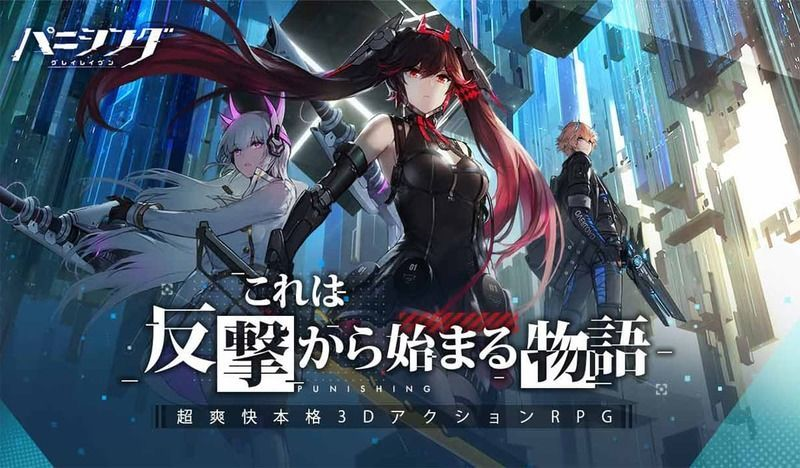 Ms. Hau

I first heard about E-Guardian when we were trying to improve the translation of an app that we had already released. The biggest appeal to me was that a native Japanese speaker would be doing the final check. I decided to contact them about the localization of PGR and I was really struck by their enthusiasm. Because E-Guardian played PGR so enthusiastically I felt that there was a real love for the work and that they were taking responsibility as a translator. We sent trial translations to other companies, and I'll admit that the quality was pretty close, but E-Guardian showed an enthusiasm that did not come with the other companies, and I ended up quite liking their work.

Ms. Hasegawa

Honestly, you don't to have in-depth knowledge of a work to do translation, but knowledge makes a huge difference in how easy it is for us to do the work. Sometimes when we ask about the reasons behind a translation of the game's worldview, we sometimes received a businesslike response such as: "Well, other games translated it like this" or "Unfortunately we can't respond because it's outside of our contract." Replies like this make it hard to communicate and hinder the overall development cycle. In this respect, E-Guardian shows passion for our work, they responded to even the most trivial of questions, which I genuinely appreciated.

Their knowledge combined with their flexibility is truly a strong point for E-Guardian

Ms. Hasegawa

I think E-Guardian's enthusiasm and ability to be flexible are part of its attraction.
We use a Chinese chat tool called "WeChat" for communication, but some Japanese companies don't allow the use of chat tools. Which can make it difficult to communicate with them. On top of that, some chat tools that are commonly used in Japan cannot be used in China creating a limited means of communication. E-Guardian was willing to allow us to use WeChat and in turn responded to us very quickly, which was truly quite helpful.

One of the bottlenecks in the translation process is the adjustment of schedules, and we were thankful that E-Guardian was able to meet our set deadline of "150,000 Chinese characters to be translated into Japanese per month." The fact that E-Guardian was willing to accept a request for an additional 10,000 characters on short notice showed us their strength in team organization.

Ms. Hau

The natural translation of the characters' dialogues was in line with our initial expectations, but the most important part for us was the explanation of the rules and skills. If those explanations become long winded and stiff, instead of simple it affects our users, and will likely lead to complaints. Although E-Guardian's translation did have some harder phrasing in the first phase, the quality improved as we continued to discuss the translation, and currently we can leave them to their work without any worries.
I truly feel that they are professionals! What impressed me the most was the unified list of words to be used that E-Guardian presented to us. Of course, our company also makes a list of words and proper nouns for each title in an effort to unify notation, but E-Guardian managed a detailed list that even included common words. I am impressed by the depth of their knowledge, and working with them has taught me a lot.

We want to share the world of our work and our vision for its future development.

Ms. Hasegawa

Updates will continue in the future, but as characters and scenarios are added we take them very seriously, we will continue to develop a common understanding and image with E-Guardian. You might say that it's the job of the development company to set up and expand the worldview and each character's image and personality, but if everyone involved doesn't share the same image, the worldview and the character's will fall apart.
I'm excited to have E-Guardian continue to actively play the Chinese version of the game, as new scenarios and characters are implemented. If they have the time, I know they'll follow the Chinese users' impressions of the world and characters through the user's posts online. By doing so, I hope we can share our vision for the future development of PGR.

Ms. Hau I'm looking forward to where we will be if we keep improving the quality of localization at this rate. It's a pleasure working together.
Multilingual Support
Game Customer Support
TOHO CO., LTD.
Multilingual support at a single point of contact Smooth implementation in a short period of time through flexible response and close collaboration.
Localization Culturalization
HK Hero Entertainment
Flexibility and the sharing of knowledge between management and the development team can be indispensable with localization and culturalization.