The monitoring result is over 10 million monthly. Precise check by "AI and human" precision check
To prevent quickly online flaming and negative reputation without reason that bring huge risk to a company, it is necessary to monitor SNS, threads, weblogs throughoutly and detect "risky posts" in earlier stage. By E-guardian with more than 10 millions of monitoring experience "risky posts" will be collected by variety of tools and early detection and prevention to "flaming" and "negative reputation without reason" will be supported by precise investigation combining AI and human power. Collected "risky posts" can be investigated from the requested perspective like "internal cause" (for example information leak) and"external cause" (for example complainment). We advise and suggest reacting measures, analysing reputation about your company and depending on the real examples from past.
Business Flow Chart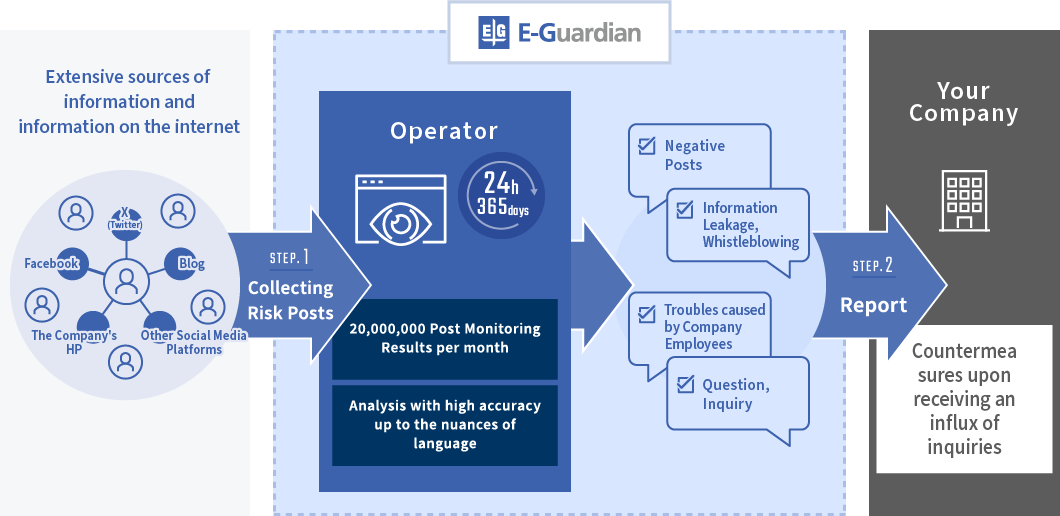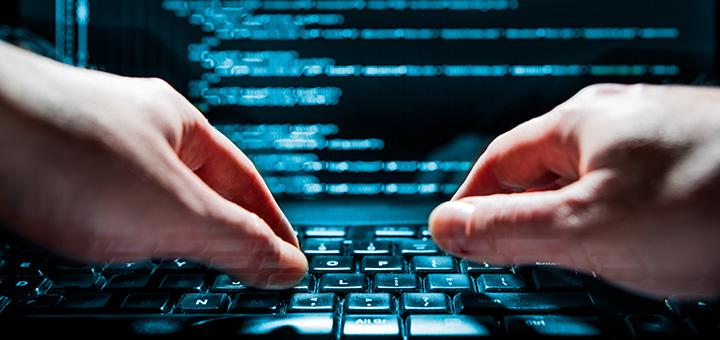 Investigation of internal cause (information leak, Whistleblower, etc)
We monitor "information leak" and "Whistleblower" by not only employees of a company but also teachers of juku (private school for support of school work) and franchise owners of convenience stores.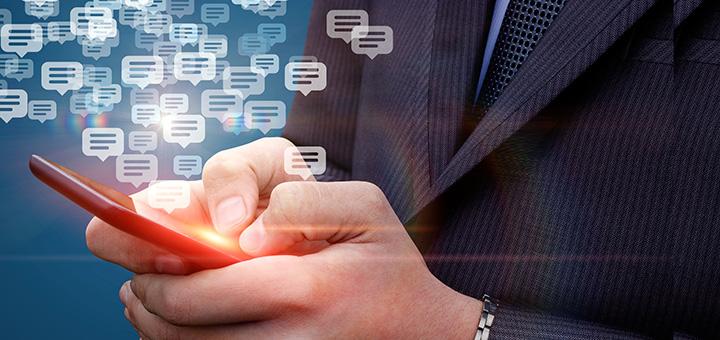 Investigation of external cause (reputational risk and complait, etc)
Negative posts such as "slande"r and "negative reputation without reason" as well as "voice of customers" such as complaint to service and impaired goods will be monitored. "Risky posts" which require quick measures will be detected.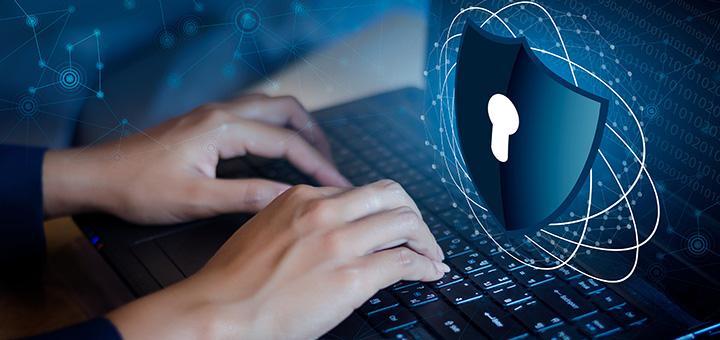 Anti online flaming support
We offer also training for your employees and make for you company a social media policy. We support you by "information leaking" which has the highest risk of flaming.
Strengths and Points of Services
rich know-how of internet monitoring

Our operators are professionals of internet monitoring with more than 10 millions of monitoring experience per month.Sensitive meanings of words that are difficult for tools to detect are investigated and analysed precisely, for operators who have earned high level of text understanding ability are checking by their eyes.
SNS which requires log-in and therefore cannot be checked by tools will be checked by operators. We cover threads like 5chan as well as social medias like Twitter and Weblogs and "risky posts" will be collected, investigated and analysed.

Large scale structure

We E-guardian provide a large scale system to work on unexpected online "flaming" as quick as possible. 20 monitoring centers are on work in 6 cities in Japan and 8 cities oversee. With out overwhelming amount of human resource "risky posts" that bring your company danger are to be detected among millions of post on SNS, threads and Web logs.
In monitoring centers operators are working 24 hours 365 days with their highly precise human check ability. In case of "flaming" happening we will react quickly and report you in real time.

Operational efficiency

We will perform the post monitoring work efficiency by the respective tools to accommodate your needs and visual check other than AI system such as "ROKA SOLUTION" the AIimage regonition system.
Also, through the high precision visual check, comments can be analyzed by categorizing comments into details. So purpose oriented reporting is available by understanding the contributor's tendency to use it for countermeasures, etc.
Frequently Asked Questions
We want to immediately detect complaints about our products and services.
It is possible to provide correspondences from an hourly post check. Arranging a large scale system capable of responding to diverse needs is one of E-guardian's strengths. Indeed, we also conduct our operations 24 hours per day and 365 days a year, even during weekends (Saturdays and Sundays) and holidays.
I want to monitor "Risky Posts" such as "information leakage" and "whistle-blowing"
Aside from checking bulletins, Twitter, and blog of the 5 Channels that is open to everyone, we can also monitor SNS that requires logging in. For example, corporate websites intended for career change. In addition to visual inspection and the use of the company's AI system intended for monitoring, we can also utilize various tools depeding on your request and the situation.
I want to check the contents of the negative comments posted in advetisements, public SNS (Twitter, Facebook, Instagram, Youtube, Google+, etc)
Through the sharing of your company's URL and SNS accounts, it is possible to have a continuous "fixed point observation". Upon doing such, you can focus on checking posts which may contain, suggestions for improvements as well as posts with essential contents, may it be positive or negative, for the company.
For Inquiries regarding Services and Quotations