We are ready to respond to enquiries from your users 24/7
At E-Guardian, we assist customer support managers by allowing them to outsource their customer support duties to us. We'll tailor a service that meets all your needs, including both email and phone support. Please get in touch with us to find out more.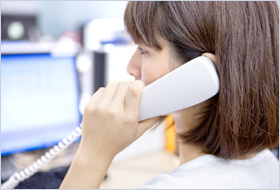 What Our Clients Want
To deal with fluctuations and sudden surges in enquiries
To reduce the number of enquiries
To improve customer satisfaction ratings
Our Service
1. Responding to Email Enquiries
We handle BtoC enquiries about largely web-based content, such as posts to blogs and social networks, as well as BtoB enquiries relating to booking and advertising sites. All our operators have received training corresponding to International Standard ISO9001, and are ready to offer your users a high-quality service experience.
2. Responding to Phone Enquiries
As well as email, we also take care of phone enquiries. If you order our User Support service as part of your monitoring package, you can look forward to even more rapid turnaround times and a rise in your user satisfaction ratings.
3. Providing Technical Support
We provide uninterrupted year-round support for your users' technical enquiries on all types of IT products. By making use of FAQ sections and various communication tools, we are able to reduce the cost of enquiries while still providing top-rated support solutions.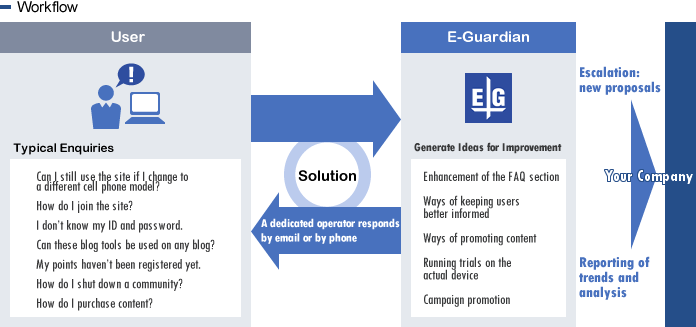 Features
Our responses are backed up by actual results and expertise.
Our highly internet-literate personnel are quick to detect failures and identify the relevant facts.
Introduction and Operation: Step by Step
Step 1: Assess Current Issues
Fluctuations and sudden surges in enquiries
Need to reduce number of enquiries
Need to improve customer satisfaction
Step 2: Operation Design
Having grasped essential information like your site's concept, your user demographics and user enquiry trends, we design your support system, which involves drafting a service policy, and choosing your mail processing and response management systems.
Step 3: Operation Implementation and Assessment
We launch operations as per the plan.
Step 4: Reporting
Results and proposed improvements
Risk analysis
Improvement of service policy
Improvement of the FAQ section
Optimization of operations
Contact Us
Advantages of E-Guardian
Business with over 300+ websites, Leading Company in the Industry!

Customizable Operation and Management Meet the Feature of Website!

Free Trial Available to Experience the High Quality Service.

"Thorough Quality Control" = Low Cost, Speedy Operation in Tokyo and Osaka Center